Things to do, places to see, restaurants, shopping, night life.....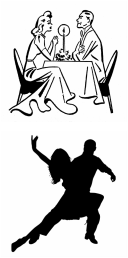 Cheriton Residencies is securely and centrally located within walking distance to;
Embassies/High commissions.
Recreational clubs.
Coffee shops.
Department stores & malls.
Banks/ATM.
The list below contains some of the favourite places that aren't a secret to the seasoned traveller. Do let us know if we have missed your favourite spot.
---
(Within a ten minute tuk-tuk ride away or sometimes just a short walk…)
Shopping
Cotton Collection,
House of fashion,
Paradise Road Shop and Studio,
Barefoot Gallery,
Crescat Boulevard shopping arcade,
the Dutch Hospital Shopping Precinct.
Odel (15 minute walk)
Race Course Promenade (7 minute walk)
Parks and recreation
The Independence Square (4 minute walk)
Vihara Maha Devi Park (Victoria Park) (5 minute walk)
Galle face Esplanade (AKA Galle Face)
Beira Lake
Entertainment
Nelum Pokuna Performing Arts Theatre, (5 minute walk)
Lionel Wendt Theatre(Art Centre) (6 minute walk)
BMICH exhibition & conference center (12 minute walk)
Night Life
Most of the five star hotels have Night Clubs
Sugar Bistro and Vine Bar,
Club AMUSEUM, and Silk night clubs,
Bally's casino and club,
Stardust casino
SPAS Sports and recreation
Most of the sporting venues below have swimming, Badminton snooker and other recreation facilities.
SSC – Maitland Crescent (3 minute walk)
NCC – Maitland Crescent (2 minute walk)
Otters Aquatic Club (10 minute walk)
The Royal Colombo Golf Club
Colombo Rowing Club
Colombo Swimming Club
Mount Lavinia Beach – max 30 minutes tuk tuk ride away
Coffee Shops
Coffee Bean and Tea Leaf, (2 minute walk)
Barista's
The commons
Dining
(Most of the 5 star hotels are a max of 20 minutes tuk tuk ride away)
Gallery Café (Paradise Road)
Barefoot Café (Barefoot, Colombo 3)
Cricket Club Café (Queens Road, Colombo 4)
Ministry of Crab (The Dutch Hospital, Colombo Fort)
Nihonbashi (The Colombo Hilton)
The Lagoon (The Cinnamon Grand)
London Grill (Cinnamon Grand Hotel)
TAO (The Cinnamon Grand)
Echo (The Cinnamon Grand)
IL PONTE (The Hilton Colombo)
Spoons (The Colombo Hilton)
Royal Thai (The Cinnamon Lake)
Palmayrah (Renuka Hotel, Colombo 3)
1864 (The Galle Face Hotel)
The Bavarian (The German Restaurant –Galle Face Terrace),
Sea Spray (The Galle Face Hotel)
Bay Leaf (5 minute walk)
Coffee Bean and Tea Leaf (2 minute walk)
Sandwich factory
Coco Veranda
Mango Tree (Colombo 3)
Long Feng(The Cinnamon Lake)
The Commons(Colombo 3)
Café on the fifth(Colombo 3)
Bars café(Colombo 3)
Park Street Mews
McDonalds, KFC, Lemon are just a few cafes and restaurants to indulge in.
Heritage
The Colombo National Museum (7 minute walk)
Gangarama Buddhist Temple
Wolvendaal Church
Dutch Museum
Ponnambalam Vaneswara Hindu Temple
The Colombo Fort and Pettah market areas, famous for its coble streets, bazaars and buildings, that give you a glimpse of the colonial architecture and heritage of its' vibrant past.
For more references, visit;
Yamu.lk
31 Things to do in Colombo
Street food in Colombo
Little adventures
or simply ask us....
Please read the terms and conditions on our rates sheet before proceeding with your booking.